Get Started
Hot bread w butter
6.5
Clam chowder in a jar
10
Shrimp cocktail
1/4 pound 13.5 1/2 pound 18.5
in a bloody mary mayonnaise, iceberg lettuce, semi-dried tomatoes & lemon (gf, df)

Pulled Pork - soft shell tortilla
8
24hr cured & slow braised pork, apple, celeriac remoulade, w chilli, lime, pineapple & mango salsa (gf on request)

Halloumi - soft shell tortilla
10
Grilled Zany Zeus Halloumi, roasted corn salsa, coriander, chilli & gaucamole
Soft shell crab taco - soft flour tortilla
10
tempura batter, chilli, spring onion & coriander, crispy shallots, pickled ginger & wasabi mayo
Fish of the day - soft flour tortilla
8
battered fish goujons, shredded iceberg, red pepper lime sauce, jalapeno creme fraiche
Sharing
Corn chip platter
15
guacamole, crab & corn, Indian pumpkin dip (gf)

Bread & dips
15
crab & corn, Indian pumpkin, roast pepper & hummus

Hot wings
17
1 Pound of crispy chilli chicken wings w blue cheese & red pepper sauce - available either meek 'n' mild or 'feel the burn!"
1/2 pound of prawns
25
king prawns in a lemongrass & chilli tomato sauce w coriander, spring onion & crispy shallots (df)

Moroccan spiced calamari
16
lightly fried & served w aioli & lemon
Shack boards
BBQ vodka cured Akaroa salmon
14
pickled cucumber & horseradish cream (gf)
Crab & prawn cakes
15
Clam & mussel fritters
14
corn, pecorino & jalapeño crème fraîche

Tempura soft shell crab
18
w chilli, pickled ginger & wasabi mayonnaise
Shrimp mac 'n cheese croquettes
13
parmesan, mozzarella & Shack tomato relish
Raw fish board
17
selection w lime, palm sugar & chilli dressing, coriander salad (gf, df)

Lamb Samosa
15
served w coconut coriander & mint yoghurt
By the scoop
Choose your shellfish:
per 500g scoop 15 per / 500g mixed scoop 16
Marlborough Green Lip Mussels
Cloudy Bay Clams
- Diamond Shell
- Tua Tua
- Moon Shell


Now choose your sauce:
Tom Yum: tomato, kaffir lime, chilli (gf, df)
Thai green curry: lemongrass, coconut, coriander (gf, df)
White wine, chilli & garlic cream (gf)
Our menus are subject to change
The Main Event
Shack fish pie
23.5
Smoked fish, prawns & mussels w mornay sauce & grilled potato top. Served w iceberg wedge, cucumber, tomato & ranch dressing
Clam and prawn Fettuccine
25
white wine, garlic, chilli, roasted peppers & parsley
Cajun catch of the day
25
grilled in the charcoal barrel & served w red pepper & lime sauce, potato hash & chipotle slaw (gf on request)

Shack paella
28
saffron rice, chorizo, squid, tiger prawn, mussel, roasted peppers, peas, jalapeño crème fraîche & smoked paprika
Kiwi pepper lamb rump
27
roasted over the charcoal barrel & served w mint & caper salsa verde, potato hash & chipotle slaw
The Shack Stack
28
two rosemary & garlic sirloin steaks, layered w roasted field mushrooms & caramelised onions served w gorgonzola cheese sauce, potato hash & chipotle slaw (gf)
Shack Burgers
The Welly
23
crumbed fish fillet, shack tartare, smoked provolone, iceberg lettuce & tomato, served w steak fries & creamed corn
The Mooloo
25
prime sirloin beef patty, bacon, iceberg, pickle, shack relish, smoked provolone
The Bogan
26
Bourbon & Coke braised beef brisket, triple-smoked cheddar, creamy garlic mushrooms, pickles, fried egg & chipotle slaw
The Rainbow Warrior
23
roasted mushrooms, potato hash, chipotle slaw, caramelised onions, gorgonzola & shack tomato relish, served w steak fries & creamed corn (v)
From the crab pots
Choose your crab
50
500g
- Blue swimmer crab
- Jonah crab claw
Choose your sauce
- The classic: chilli garlic butter finished w lemon and parsley (gf)
- Black pepper: cracked black pepper, garlic sweet soy & spring onion (gf)
- Tomato, ginger, chilli & lemongrass: sweet, rich & spicy, finished w coriander & fried
shallots (gf, df)
Crab combo
85
Jonah claw, Blue swimmer and Canadian lobster claws with your choice of sauce - 1kg
The King!
120
800g of Red King Crab w jalapeno crème fraiche, bloody mary mayonnaise & lemon (gf)
Sides - $6.50
Smoked chipotle slaw (gf)
Steak fries (gf, df)
Creamed corn
Rocket & manchego salad (gf)
Hot bread w butter
Dessert
Dessert menu
All 12.50
Coconut rice pudding - mango / toffee / caramelised banana / toasted coconut shavings / vanilla ice cream

Hot double chocolate fudge brownie - chocolate sauce / cocoa crisps / caramel walnuts / vanilla ice-cream

Tiramisu - espresso / mascarpone / Kahlua soaked lady-fingers / chocolate sauce / coffee meringue

Cheesecake of the day - please ask your wait person for today's flavour

Boozy ice cream sundaes - choose from
- Jaffa - chocolate ice cream / Cointreau syrup / orange crisps / mandarin crumble
- Coffee - caramel ice cream / Baileys anglaise / latte meringue / mocha cigar

Affogato - vanilla ice cream / Immigrant Son espresso / your choice of liqueur - select from below

Black forest cocktail - sherry / cherries / dark chocolate / cream $15
Kids Menu
Menu
All 12.50
Fish 'n' chips
Battered fish / home fries / old school iceberg salad / ranch dressing / ketchup

Beef burritos
Ground beef / kidney beans / iceberg lettuce / cheddar cheese / sour cream & guacamole in a flour tortilla wrap

Pulled pork baguette & curly fries
Slow braised pork / cheddar cheese / BBQ sauce / curly fries / ketchup

Corny Chicken tacos
Crispy chicken tenderloins crumbed with corn flakes & corn chips / soft shell taco / shredded iceberg lettuce/ tomatoes / cheese / tangy mayo

Bangers 'n' hash
Cheese Kransky sausages / potato hash / Shack tomato relish

Dessert
All 8.00
Hot Banana Split
Cinnamon battered banana / vanilla ice cream / pineapple lump crackle/ whipped cream / caramel sauce

Ice cream sundaes
Chocolate overload - chocolate ice cream/ chocolate fish / chocolate hail / cocoa meringues / whipped cream / chocolate sauce

Berry berry nice - vanilla ice cream / 100's & 1000's / raspberry wafers / fresh summer berries / whipped cream / strawberry sauce

Marshmallow snowman
Vanilla ice cream / chocolate mousse / marshmallow / vanilla snow
Soda Spider
4.50
Any fizzy drink / vanilla ice cream
Sherry
Lustau Manzanilla Papirusa
Port
Methode Traditionelle
Te Hana Sparkling Reserve NV
Sauvignon Blanc
Pinot Gris
Mt Difficulty Roaring Meg
Riesling
Gewurtztraminer
Chardonnay
Rose
Zinfandel
Pinot Noir
Merlot/Cabernet
Merlot
Concha y Toro Diablo 2014
Shiraz/Syrah
Barrel Thief Sauvignon Blanc
Panhead Black Top Oat Stout
Speights Triple Hop Pilsner, Macs Mid Vicious, Steinlager Pure, Steinlager Classic, Steinlager Mid, Corona, Pacifico.


Macs Love Buzz Honey Mead
Corona Bucket (4x Bottles)
Mac's Chilli and Lime
Mac's Cloudy Apple
Mac's Cranberry and Ginger
Cocktails
All 15
Beach Bum – rum, grenadine, Cointreau, w cranberry & pineapple

Crab Club Sour – Whiskey, Stone's Green Ginger wine, egg white & sweet and sour mix

Mojito – rum, mint, lime & soda

Pomberry Sangria – passionfruit, red wine, vodka, pomegranate & cranberry

Margarita – tequila, Cointreau & lime juice

Passionfruit Caipirinha – cachaça rum, passionfruit, lime, sugar

Daiquiri – rum, lime, sugar. Classic, Mixed Berry or Passionfruit available

Crab Shack seasonal cocktail – (ask your waitstaff)

Höpt Soda
- salted lychee
- watermelon & mint
- pear & basil
- elderberry & herb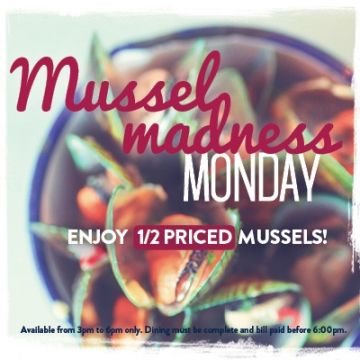 Mussel Madness Monday
1/2 price Mussels. Available from 3pm - 6pm only*
Hot Chick Tuesday
Our famous hot wings only $1 each. 3pm-6pm only*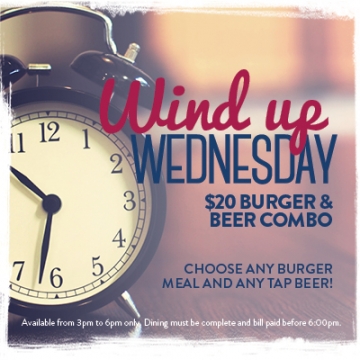 Wind Up Wednesday
$20 Beer & Burger Combo. Available from 3pm - 6pm only*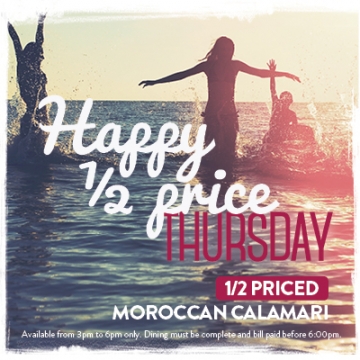 Happy Half Price Thursday
1/2 priced Moroccan spiced calamari. 3pm-6pm only*
Fantastic Four Friday
$20 Shack platter to share*. 3pm-6pm Friday only*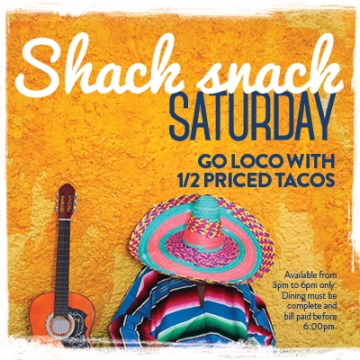 Shack snack Saturday
1/2 priced tacos. Available 3-6pm only*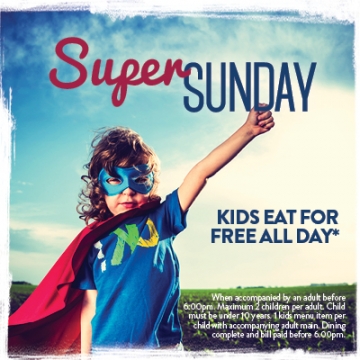 Sunday - Kids Eat FREE
When accompanied by an adult before 6.00pm*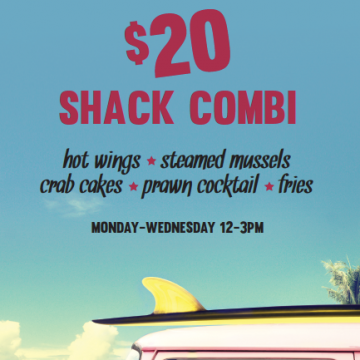 Crab Shack Combi Lunch
$20 Shack Combi*. Mon-Wed 12pm-3pm.
THE CRAB SHACK WELLINGTON
The Crab Shack (a first for Wellington and N.Z) is our restaurant at the southern end of Shed 5 on Queen's Wharf. The Crab Shack is a coastal/Cape Cod themed casual dining and drinking experience. 
Specialising in seafood with a special emphasis on crab yet including other fabulous meals "By the Scoop" & "From the Charcoal Barrel" are all included on our menu.
The Crab Shack provides fun, smiles and frivolity in a casual yet entertaining environment. Affordable is an understatement, check out our daily deals today!
Opening hours: 11:30am to late - 7 days!